Understanding Indicator and Construct Reliability.​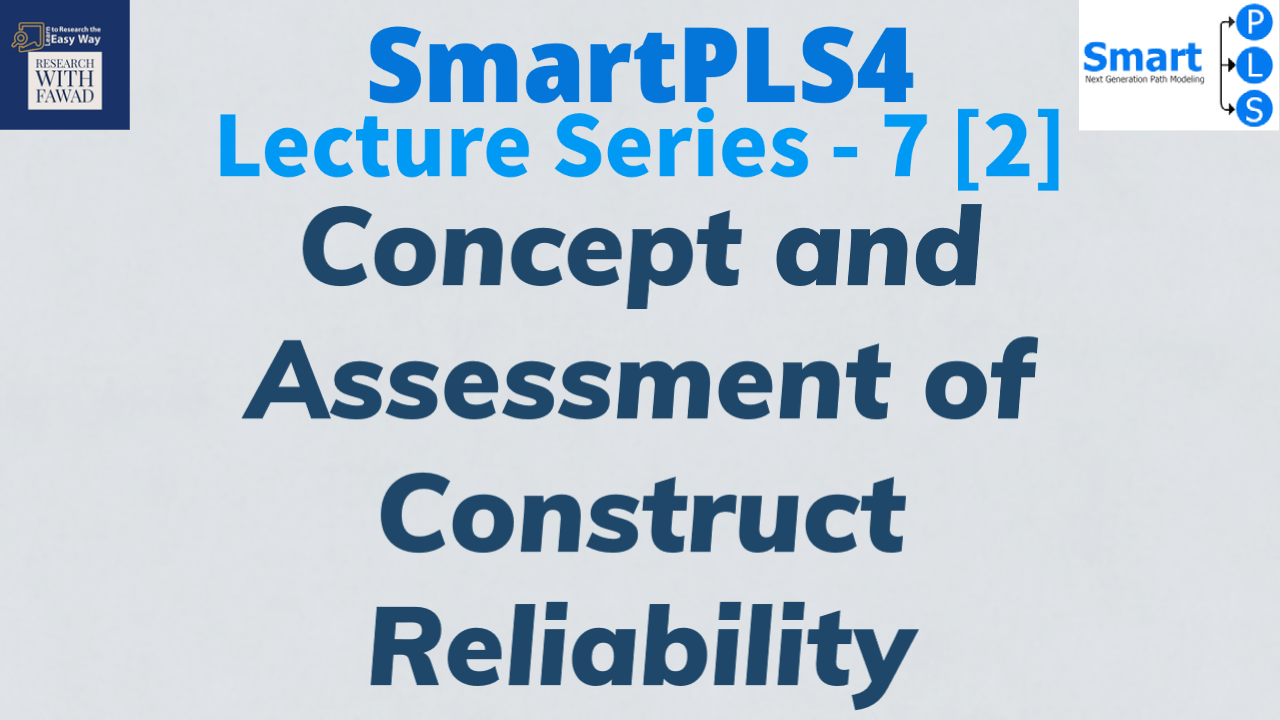 How to Assess Construct Reliability?
For Complete Step by Step SmartPLS4 Tutorial Playlist, Click Here
Understanding Indicator and Construct Reliability.
This session discusses in detail the concept of Indicator Reliability and Construct Reliability. The statistics are assessed as part of the measurement model.
Most often, the constructs are reflective at lower level. Hence, all the lower order constructs in the study are assessed for reliability and validity. The following figure highlights the steps in measurement model assessment.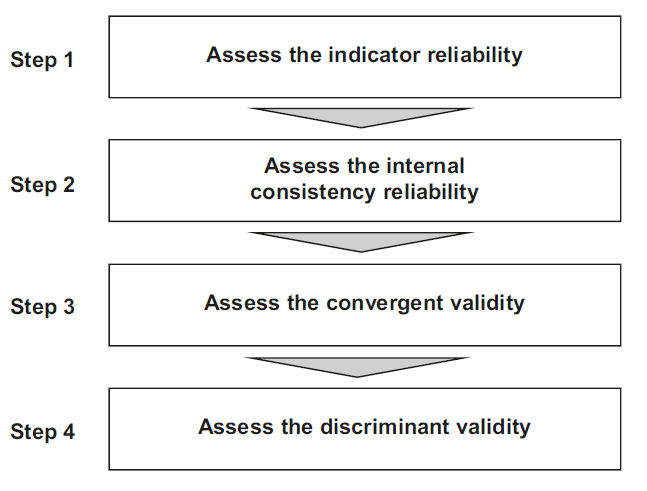 What is Indicator Reliability?
Indicator reliability Is the square of a standardized indicator's indicator loading. It represents how much of the variation in an item is explained by the construct and is referred to as the variance extracted from the item. Indicator loadings above 0.708 are recommended, since they indicate that the construct explains more than 50 percent of the indicator's variance, thus providing acceptable indicator reliability. The calculation of indicator reliability can be performed by squaring the values in the indicator/factor loading. The squared value >= 0.50 indicates the indicator reliability is established.
In case you obtain weaker indicator loadings (< 0.708) . Do not simply delete the indicators when their loading is below 0.70, researchers should carefully examine the effects of indicator removal on other reliability and validity measures. Generally, indicators with loadings between 0.40 and 0.708 should be considered for removal only when deleting the indicator leads to an increase in the internal consistency reliability or convergent validity above the suggested threshold value.
Another consideration in the decision of whether to delete an indicator is the extent to which its removal affects content validity.
What is Construct Reliability?
Is a form of reliability used to judge the consistency of results across items on the same test. It determines whether the items measuring a construct are similar in their scores (i.e., if the correlations between items are strong).
The second step in reflective measurement model assessment involves examining internal consistency reliability. Internal consistency reliability is the extent to which indicators measuring the same construct are associated with each other. One of the primary measures used in PLS-SEM is composite reliability rhoc. Higher values indicate higher levels of reliability.Cronbach's alpha is another measure of internal consistency reliability
The recommended cut-off value is 0.70 for both Conrbach's Alpha and Composite Reliability.
Hair Jr, J. F., Hult, G. T. M., Ringle, C. M., Sarstedt, M., Danks, N. P., & Ray, S. (2021). Partial least squares structural equation modeling (PLS-SEM) using R: A workbook.
To Download the Book, Click
Here